There has been an interesting history of stage musicals that have been adopted into the big screen. Cinematic dimensions are always tricky, as there has been some serious hits and misses.
There have been the amazing Oscar winners like The Sound of Music, Chicago, Cabaret, and Dreamgirls. For each one of them we also have Cats, Producers, Rent, and Mama Mia (yes - I know that's controversial, but it was quite bad!). And then there's the mediocre ones- Les Miserables, and Evita which come to mind.
So where does In The Heights fit in on the scale of musicals?
Like Lin-Manuel Miranda's Midas touch, this is certainly no exception. To call this film phenomenal is probably the right choice of words. There's a lot of energy, deep storylines, an exploration of race, immigration, how we define home, that makes this a very powerful modern day musical.
Let's deep-dive and have a look at what works and what could have been done better
What Works: The music! Omg the music!
At a recent interview with Anthony Ramos described the musical as a Latina explosion. I think that's the best way to describe this musical. Every number brings an energetic force to the musical. From the very beginning, the opening song grabs on a high, and the momentum does not end.
What Works: Anthony Ramos.. yeah..Anthony bloody Ramos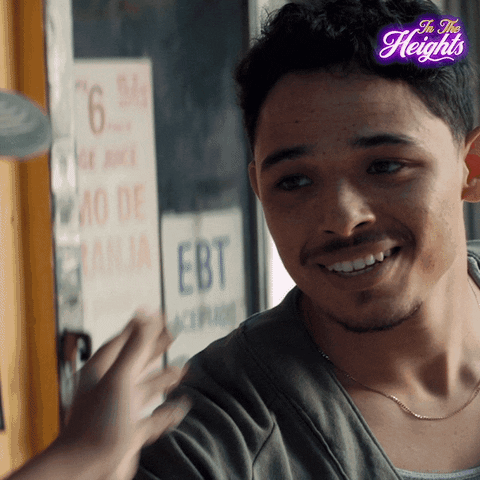 Anthony Ramos has become quite the Hollywood sensation. We initially got a glimpse of him on A Star Is Born, where he played Lady Gaga's gay sidekick. He was still making it big on Broadway with Hamilton. Disney+ getting the rights to film and show Hamilton was one of the highlights of 2020, and once again we got to see Ramos bringing his A Game to a supporting role.
With In the Heights, we see Ramos take the lead for a change. In 'In the heights' we see Ramos lead the way.
As a leading man, Ramos is absolutely amazing. He sings, he dances, he raps, and he looks absolutely sexy! This man is the ultimate quadruple threat!
What Works: The supporting cast is amazing
You will recognise a lot of the supporting players from other TV shows. Brooklyn 911's Stephanie Beatriz, Orange is the new black's Dascha Polanco, and Vida's Melissa Barrera add an amazing aura to this production. Lin-Manuel Miranda himself plays a minor character!
Done better:
The heteronormative romanticism of the characters was cringeworthy
A downside to Lin-Manuel Miranda's storytelling is his writing of romantic storytelling. Some of the scenes we see in this is so cringeworthy, and in a way out-dated. The way each romantic story unfolds reminded me of a 90's film. Luckily the music in the film allows you to be distracted from the all the romantic narratives this film has! A minor problem, but a problem none the less.
Done better:
Where was J-Lo?
When the film is all about Latin American pride, how can you not have the queen of this narrative? I just expected J-Lo to manifest in her outstanding fabulosity and steal the screen for just a couple of minutes. Instead we got Marc Anthony, in an uninspiring and dull cameo. Oh well! It is what it is!
Watch this movie if you are a fan of musicals! You will love it!